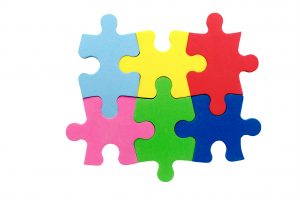 Remember the last time you bought a good pair of jeans? Not necessarily designer denim, but a pair that met all your criteria: perfect fit, remarkable comfort, and a look you could dress up or down as you pleased. Can you picture it?

What made those jeans so special? It's not that you had found the one brand that had discovered the "universal fit" for clothing that everyone could wear so well. Rather, it's because the measurements of your jeans are perfectly matched to your frame.
With so many people in the world, we need to have many different fits and cuts of clothing. The same is true of businesses: With sizes and functions ranging from small, local shops to large national franchises to corporate headquarters and everything between, it only makes sense that you'd need different iterations of financial software to find your perfect fit.
The fact is this: All too often, businesses look for systems that do everything—full stop. The result? An overpowered, overpriced system jam-packed with unusable features.
GetLinked knows that smart financial investments are key to success in difficult times. We hear you when you say you don't need big software packages with all the bells and whistles; you need a modular system that you can customize to your integration needs. That's why we offer our customers six modules that cover their various financial needs — and let you, the experts, make the right choices.
What are GetLinked's six modules? Take a look:
1. For Daily Sales: POSLink
Through POSLink, you can transfer your sales transactions, discounts, taxes, paid-outs, tenders, and more directly into your financial system.
2. For Payroll/Time and Attendance: PRLink
Do your employees work on a punch-in, punch-out, time-clock system? If so, you'll want to take a look at PRLink. It's a time and attendance module that shares types, time cards, and other such employee data with your payroll service provider or financial system.
3. For Accounts Payable: APLink
With this module, you can electronically transfer vouchers straight into your financial system from your purchasing system. But the benefits don't end there. APLink can handle vendor translation, mass entry, and account translations per voucher — all for you.
4. For Accounts Receivable: ARLink
ARLink transfers summary invoices from your billing system into your financial system with ease. After that, you've got the power to print and send statements to your customers and customers while controlling mass invoice entry, account translations per invoice, and customer translations. .
5. For General Ledger: GLLink
Let the GLLink module help you import financial journal information into your general ledger. From systems ranging from text files and spreadsheets to payroll service providers, GLLink can integrate and take over this task.
6. For Bank Reconciliation: BRLink
Start looking forward to the end of the month with BRLink–our module that enables you to import deposit information from your point-of-sale system into your bank reconciliation or checkbook with ease.
You wouldn't buy a pair of jeans that didn't fit. So why treat your business any different? Get customized solutions with GetLinked, and you can start each workday off with cool, casual style.