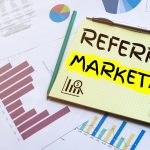 Two weeks ago, you got a text from one of your close friends: "Hey. Do you like your computer?".

After nearly a year of remote work, you've become well acquainted with your computer — and it's great. You're happy to talk to your friend about your experience and share the features you love about it. After some back and forth, your friend thanks you; a few days later, she buys the same brand.

If you've ever referred a product to a friend, or been moved to purchase something based on a positive review, you're not alone. In fact, Nielsen reports that 84% of people trust word-of-mouth recommendations that come from friends and family. And they're four times as likely to buy something if a friend or family member recommended it.
Recommendations are incredibly beneficial for both businesses and shoppers, but they typically don't do much for the people making them.
Or at least, that's how it used to be — until we decided it was time for a change.
At GetLinked, we know that customer happiness is the key to success, and we're rewarding satisfied customers who recommend our services to others. Here, we'll explore our referral programs, and why you should be part of one.
Why Should I Join One of GetLinked's Referral Programs?
As a GetLinked customer, you have the option to join one of two Referral programs: the Basic Referral Program or the Referral and Marketing program.
Joining the Basic Referral Program entitles you to receive a 15% commission each time someone you refer makes a purchase. What's more, you'll continue to get 15% of their continued yearly subscription purchase.
The Referral and Marketing Program takes these benefits to the next level. When you join this program, you'll receive 30% of both the first sale to a customer you refer, as well as 30% of annual subscription purchases.
Regardless of which program you choose, you'll be given your own customer enrollment page.
Why Should I Refer My Networks to GetLinked?
GetLinked is the solution to your financial software needs. Through seamless integration capability with hundreds of timeclock and point of sale systems, we create faster accounting transactions. And by doing away with tedious manual data entry, we cut out human error and ensure enhanced accuracy.
If you've experienced the benefits of GetLinked and believe someone in your network could do the same, sign up for a Referral program today!