This topic is for accounting systems that require a file to be imported (ex. Peachtree, MAS90, etc.).
You can check where GETLinked is generating the journal entry .csv file by:
1. Run GetLinked.
2. Click on Setup > POSLink and select your location.
3. Click the "Transfer" tab for the accounting Transfer settings.
4. The path should be listed on the lower half of the Transfer window.
In the screenshot below I'm saving the file to the folder Z:\temp\ using MAS90.
It is the same for any system that is exporting to your computer. Some accounting systems do not need a file to be exported and GetLinked Software directly connects to those systems.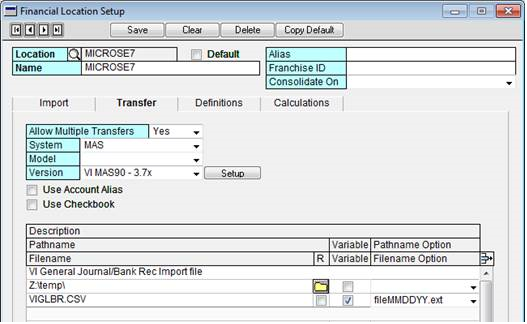 If you need to change where the file is being saved you can click the little yellow folder button and browse to the new location.
Then transfer the journal entry again and it should create a fresh .csv file for you.
This same function works for all GetLinked Software modules: POSLink, PRLink, APLink, ARLink, GLLink and BRLink.
Thank you for the post.
GetLinked Software