First, thank you for your purchase of the GetLinked Software Subscription (GSS).
Let us get you started:
Once your order has been processed completely you will receive an email with the following information:
- If you purchased technical support you can just call the authorized phone number provided and schedule a mutual time that works for you to have one of our technicians assist you through the complete process of installation and training. You do not have to do anything else at this time.
Our technicians can assist you over the telephone (and remote control) to load the GetLinked software and train you and your staff. The initial installation usually takes about an hour over the telephone and that is the amount of technical support we recommend you purchase for your initial location.
For DO-IT-YOURSELF customers you can follow the email instructions:
- Directions to your
Customer Login
at our support site. Here you can download the GetLinked Software and access technical documents such as installation instructions.
- GetLinked Software Registration Keys have been provided in the email sent to the authorized personnel at your company. You can input these keys once GetLinked Software is installed. Make sure to keep your email and store a copy of these keys in a safe place.
Steps:
1. Download the GetLinked Software.
Customer Login
2. Download and follow the installation instructions on our Support site. Reference these instructions for more details.
3. Follow the Toast process for downloading and automating your daily transaction files ("Polling"). Polling of data can be the longest and hardest process of setup and needs to be done before GetLinked Software can operate. This is where computer technicians can assist the most in automating this process on a daily basis. GetLinked installation is usually the easiest and fastest process of setup.
- Run GetLinked Software.
- Click on Setup > POSLink.
- Defined a Location and Name of the location.
- Choose "Allow Multiple Imports" (Default it to "No" initially so you protect yourself from overwriting previous imports and changes you might make).
- Choose "System" (Toast)
- Choose "Model" (Toast POS)
- Choose "Version" (Check your version (ex. "2018 Data Exports").
- Click on "Setup" button next to "Version". The Toast Financial Setup window will display.
- Click on "Toast Location ID" Lookup button. This will import all your Location ID's. Make sure to choose the correct location you want.
The Location ID in GetLinked Software is connected to one Toast location per license.
- Click on "Setup" button next to "Financial Import Files".
- Choose "Import System Totals" (Options: YES, NO).
- Choose "Import Service (Day Part) Totals" (Options: YES, NO).
- Click on "Setup" button next to "Build Definitions".
- View the complete setup windows and fill in the Pathname and Filename fields as displayed.
Below is a sample POSLink Financial Setup window completed: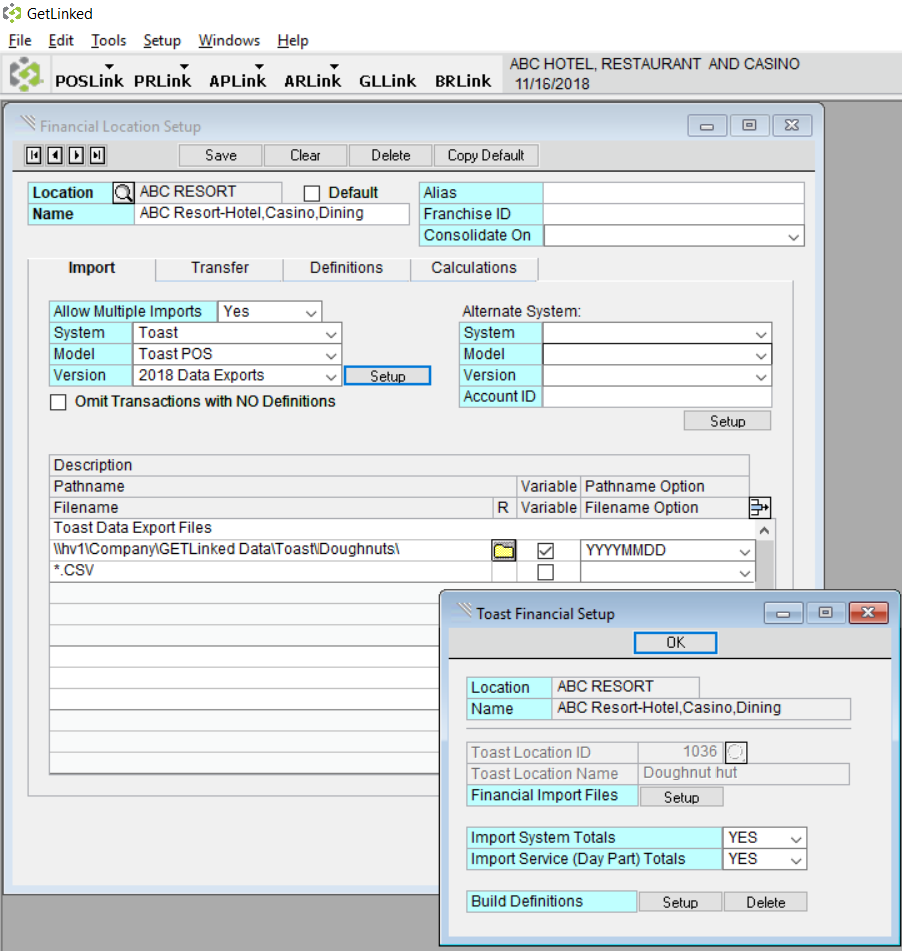 GetLinked software imports this data, arranges in a financial format, validates it and transfers a balanced journal entry to your accounting system electronically.
GetLinked software includes:
- Active customers have access to our
Customer Login
site for downloading GetLinked software and technical documentation that includes basic installation, setup and daily processing procedures.
-
MORE...
Telephone technical support is available and sold separately if needed for current customers. It can be purchased on an hourly basis at our online
Store
under
Support
.
ALL SERVICES ARE SOLD SEPARATELY.
Please review the topics listed below for details on the subscription and services.
Please review other Forum topics for more details:
How does the subscription work per location and other costs? What are the benefits of keeping my subscription current?
How does technical support and the reserved Forum site work with Getlinked Software?
I have an additional question. Where can I find an answer?